The Greater Burlington Multicultural Resource Center hosts keynote speaker Nontombi Naomi Tutu, Daughter of Archbishop Desmond Tutu, and Vivienne Deane Gospel Ensemble, as part of the 2015 Burlington Dr. Martin Luther King, Jr. Remembrance.
The Mission of the Greater Burlington Multicultural Resource Center (GBMRC) is to increase awareness and provide opportunities to celebrate, promote and support cultural diversity within our community.
Gun collector and enthusiast Jerry Mullen discusses Revolutionary War weapons and tactics employed in the New Hampshire Grants (early Vermont) and Northern Army Districts.
For more information, contact the Ethan Homestead Museum at www.ethanallenhomestead.org or call 802.865-4556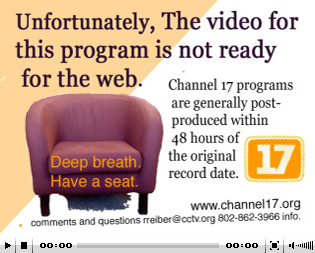 Internationally renowned author Salman Rushdie talks about the importance of stories in a special Vermont Humanities Council event titled 'What's the Use of Stories That Aren't Even True?' at Burlington's Ira Allen Chapel. The talk is presented with the Office of the President, University of Vermont.
Rushdie's appearance kicks off Vermont Reads 2015, the thirteenth year of VHC's statewide, one-book community reading program. His novel, Haroun and the Sea of Stories, is VHC's 2015 Vermont Reads pick. The talk also headlines VHC's First Wednesdays program, a free monthly lecture series taking place October through May at nine sites statewide.
Born in Bombay (now Mumbai), India, Rushdie is the acclaimed author of eleven novels, one book of stories, and four works of nonfiction. He has received, among other awards, the Whitbread Prize for Best Novel (twice), the European Union's Aristeion Prize for Literature, Author of the Year prizes in both Britain and Germany, the Budapest Grand Prize for Literature, the Premio Grinzane Cavour in Italy, and the Austrian State Prize for European Literature, as well as the Freedom of the City in Mexico City, Strasbourg, and El Paso, and the Edgerton Prize of the American Civil Liberties Union. He holds the rank of Commandeur in the Ordre des Arts et des Lettres, France's highest artistic honor. In 2007 he was knighted for services to literature. His books have been translated into more than forty languages. In 2004 an opera based upon Haroun and the Sea of Stories premiered at New York City Opera.
Host Dennis McMahon speaks with Zachariah Fike, Founder of Purple Hearts Reunited and current Captain in the Vermont Army National Guard, as well as Hannah Doyle, Development Director for Purple Hearts Reunited on the evolution and mission of the organization.
Purple Hearts Reunited was established in Vermont in 2012, locating lost or stolen Military Medals and returning them to Veterans or their families in order to honor their sacrifice to the nation. To date, Purple Hearts Reunited has conducted more than 100 returns and is currently working on over 200 lost medals that need a home. If a Veteran or family cannot be found, a home of honor is located for the medal, such as a military museum. Purple Hearts Reunited also takes time to enroll these heroes into the Purple Heart Hall of Honor and has successfully enrolled over 1000 recipients.
Vermont Ibutwa* Initiative founder and activist Cleophace Mukeba provides and update on the organization and direction in assisting the needs of the people of the Democratic Republic of Congo. Find Vermont Ibutwa Initiative on Facebook. (*Ibutwa is Congolese for renaissance)
Host Ron Wanamaker speaks with Paul Dreher, Zoning Administrator for Newport, Vermont, on the use of 'form-based code' for city development.
Jeannine Russell, VTrans Archaeology Officer, summarizes the exciting results of the Northeast Archaeology Research Center's large scale archaeological excavations along Route 78 in Swanton. The Missisquoi floodplain preserved a remarkable record of human occupation spanning nearly 7000 years. more info: www.neararchaelogy.com/swanton.html