WATCH NOW: Thanksgiving Schedule; Special Election Discussion; Straight Talk about BHS; On The Waterfront Transition; Non-Citizen Voting
November 24, 2021
Special Holiday Programming This Week
This Thanksgiving, we hope you'll have a chance to slow down and safely celebrate with the people you love. We also hope you'll spend some time with us!
While the Town Meeting TV studio/office will be closed on Thursday and Friday, you can always find our unique, local programs on TV or online. In addition to gavel-to-gavel coverage of municipal meetings and other events, look for these special programs this weekend:
Friday 11/26: Native American Programming - 1:00 - 7:30 pm
Saturday 11/27: Sen. Leahy Now & Then - 1:00 - 5:00 pm; Chickasaw Nation Films - 6:00 - 7:30 pm
Sunday 11/28: Sen. Leahy Now & Then - 1:00 - 2:30 pm; Abenaki Stories - 5:00 - 7:30 pm
On behalf of all of us at CCTV & Town Meeting TV, Happy Thanksgiving!
Thank you for watching and for supporting our efforts to bring our community together and keep the wheels of local democracy turning.
Visit our website for the full schedule. Check out the CCTV Archives to revisit Thanksgiving celebrations from years gone by! (Like the Trotting of the Turkeys event in 2017.)

---
Speaking of holidays...
SAVE THE DATE for our Virtual Holiday Party & Online Auction on December 16th. Follow us on Facebook for more details!
Burlington Special Election Discussion 11/18/2021
City Councilors Joan Shannon (South District) and Jack Hanson (East District) meet with CCTV Executive Director Lauren-Glenn Davitian to discuss upcoming ballot items for the December 7th Special Election.

Get the facts before you cast your ballot. We've curated a number of programs about Burlington's Special City Election. Watch them here.
Service Rendered: Straight Talk Vermont - Lauren McBride, Principal of Burlington High Schoo
Host Bruce Wilson and Service Rendered executive assistant/creative consultant Fiona Winter talk with Lauren McBride, Principal of Burlington High School, about what's new and next for BHS.

Watch more interviews in the Straight Talk Vermont series.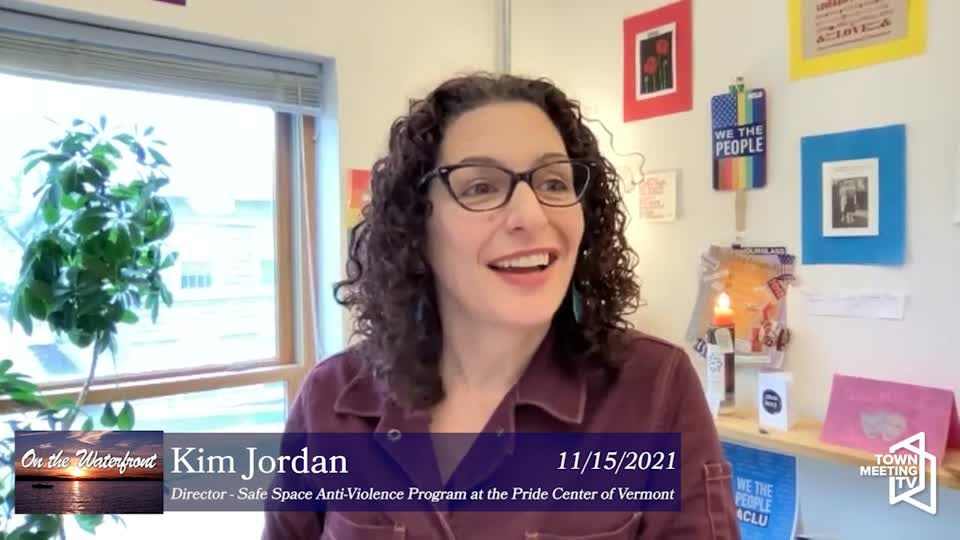 On the Waterfront: Interview with Kim Jordan - Director of the SafeSpace Anti-Violence Program at the Pride Center of Vermont
Kim Jordan, Director of the SafeSpace Anti-Violence Program at the Pride Center of Vermont, tells Melinda Moulton about what SafeSpace and who it serves -- and shares a bit about her journey to get to her current role.

Speaking of new roles... This episode marks the end of Melinda's tenure as host and producer of the ongoing On the Waterfront series. But don't worry! Melinda will be back with a new show called "Moments with Melinda."
Cris Ericson: Non-Citizen Voting Controversy
Cris Ericson talks about a Winooski effort to allow non-citizen voting, which is now before the Court. Cris explains that she intentionally ends the video "with a subtle reminder, a drumbeat call to action, that it took Native American Indians many years to get the right to vote in the United States -- their land."

Cris just announced that she is running for the seat that U.S. Senator Patrick Leahy is retiring from. Look for her campaign announcement soon.

Featured Story
QUESTION 1 APPROVAL OF GENERAL OBLIGATION BONDS FOR CITY CAPITAL PLAN PROJECTS
YES 3945 57.29%
NO 2941 42.71% (requires a 2/3 majority to pass)
QUESTION 2. ISSUANCE OF REVENUE BONDS FOR BURLINGTON ELECTRIC DEPARTMENT PROJECTS
YES 4826 69.96%
NO 2072 30.04%