WATCH NOW: ARPA Input; Essex Junction Votes; Soccer Semifinal; Redistricting Update; Lost Mural; Overdose Prevention; Burlington's Good Ole Days
November 02, 2021
American Rescue Plan Act - Community Input Survey
On March 11, President Joe Biden signed the American Rescue Plan Act (ARPA) into law, awarding millions of dollars directly to cities.
As a result, the City of Burlington has over $15 million to invest in projects that the community selects. According to the federal guidelines, these funds must be used for projects that respond to the health crisis; address racial and economic inequities; support broadband access and improve water systems, and/or support tourism.
The City has identified several projects that are eligible to be funded using ARPA money and have the opportunity to positively impact Burlington by meeting a number of high-priority goals. If you live, work, or own a business or property in Burlington, you can provide feedback and help determine where the money gets invested.
---
TODAY: Essex Junction Votes on Independence
Voters in the Village of Essex Junction will decide whether or not to adopt a municipal charter that would separate the village from the Town of Essex and transform it into an independent city. Polls are open from 7:00 am to 7:00 pm. Learn more about today's vote.
We'll share election results as soon as we can. Visit our website and/or follow us on social media for updates.

---
Town Meeting TV SCORES Exclusive Coverage of Semifinal Soccer Game
Although no members of the public can attend today's state playoff semifinal match between Winooski and Enosburg Falls high schools in response to racist comments about Winooski athletes at previous games, you can watch today's 3:30 pm Winooski - Enosburg Soccer Game on Town Meeting TV's YouTube Channel. Livestream the game here.
To the Towns! Update on Legislative Redistricting: Interview with Tom Little of the Vermont Apportionment Board
The Vermont Apportionment Board has developed new Legislative District Maps which are now being considered by local cities and towns. Everyone is encouraged to review these maps and let their local Board of Civil Authority (Selectboard/City Council) know what they think. Should legislative district lines conform to town and/ or county boundary lines? Are single-member house districts (one representative per House district of around 4,300) or two-member districts (two representatives in a single house district of around 8,600 people) preferable? What about single-member senate districts (one senator per senate district of around 21,500 people) or multi-member senate districts (two or three senators in a single district of around 43,000 or 64,500 people)?

Let the Legislative Apportionment Board know your views before they finalize proposed legislative district lines.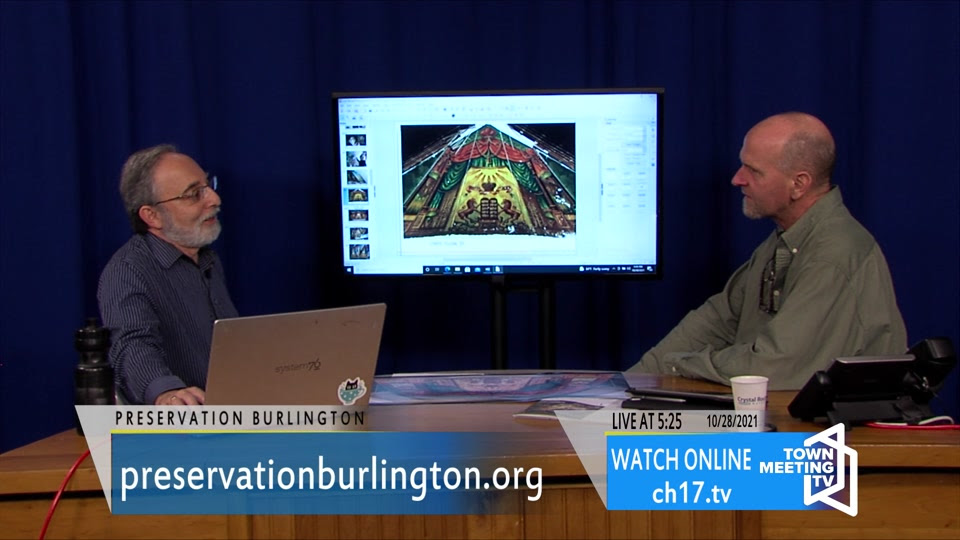 Preservation Burlington: The Lost Mural
The Lost Mural has been successfully cleaned in 2021 with layers of varnish, charcoal dust, and dirt having been removed. Half the funds have been raised for the final phase of the full restoration of the Lost Mural and the project needs $75,000 more this year to complete this work in 2022.

Visit www.lostmural.org to learn more about this precious piece of Burlington's artistic and cultural heritage.
Addiction Recovery Channel: Overdose Prevention Site - Protecting the Lives of People Who Use Drugs
Vermont had the highest rate of increase in drug overdose fatalities in America during 2020. Join Ed and a dynamic group of experts as they discuss proven methods to reverse this trend.

Watch the Addiction Recovery Channel to learn from individuals with extensive professional and personal experience related to all aspects of addiction, recovery, prevention, and policy.
Stump the Chumps: The Good Ole Days
Former State Senator Jim Leddy pairs up with sister Joey Leddy Donovan in going back to the "good ole days" in Burlington. Tune in to reminisce about what Burlington once was.

Stump the Chumps is one of Town Meeting TV's most popular programs ever. Watch additional episodes of the show here.
kathleen

[at]

cctv [dot] org

(subject: Interested%20in%20underwriting)

(
)
Town Meeting TV opens the door to local government with in-depth coverage of public meetings, community stories, local elections, and live call-in shows. Support local media. Make a tax-deductible donation today!
Featured Story
QUESTION 1 APPROVAL OF GENERAL OBLIGATION BONDS FOR CITY CAPITAL PLAN PROJECTS
YES 3945 57.29%
NO 2941 42.71% (requires a 2/3 majority to pass)
QUESTION 2. ISSUANCE OF REVENUE BONDS FOR BURLINGTON ELECTRIC DEPARTMENT PROJECTS
YES 4826 69.96%
NO 2072 30.04%