Burlington This Is You!
Producer
Description
Weekly series running in the mid-198o's, composed of various Burlington activities, leaning to the left. Produced by Nat Ayer
Programs in this Series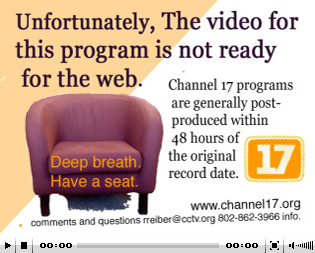 Burlington This Is You! E1b
-
02/20/1985
Edited programs, most of which appeared on Ayer's first CCTV show 2-20-85. E1 86583 Individual Program Edits E1b 2/20/1985 0:48:00 E1 18249 Profile of 'Jugglers From Mars' 2/2/1985 0:09:30...
Featured Story
For unofficial results on election night, visit the Vermont Secretary of State's election results page. Results reported for Federal, statewide, Senate and House Seats. https://electionresults.vermont.gov/Index.html#/ In September and October, Town Meeting TV will bring you live candidate forums for all federal, statewide and local elections.