Burlington This Is You!
Producer
Description
Weekly series running in the mid-198o's, composed of various Burlington activities, leaning to the left. Produced by Nat Ayer
Programs in this Series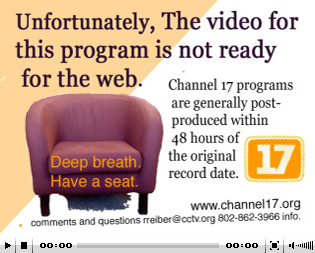 Burlington This Is You! E1b
-
02/20/1985
Edited programs, most of which appeared on Ayer's first CCTV show 2-20-85. E1 86583 Individual Program Edits E1b 2/20/1985 0:48:00 E1 18249 Profile of 'Jugglers From Mars' 2/2/1985 0:09:30...
Featured Story
An editorial in the Time Argus newspaper explains why the local meeting coverage provided by public access television stations is "crucial for keeping our elected and appointed officials on task."