CCTV Goes to Washington 1991
Producer
Description
Lauren-Glenn Davitian and Nat Ayer visit the Vermont Delegation in Washington, D.C.
Programs in this Series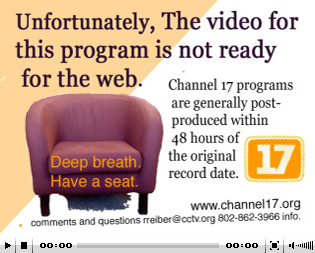 Channel 17 Visits Rep. Sanders' Office
-
05/07/1991
Channel 17 Visits Rep. Sanders' Office Channel 17 Visits Vermont's Delegation, Sen. Leahy, Sen. Jeffords, Rep. Sander, C-SPAN, and Journalists in Washington, D.C.
Featured Story
CCTV is looking for a creative problem solver with hands on experience in video engineering and desk top support to provide technical services to CCTV & Town Meeting Television. The Video Engineer works with the Systems Engineer to run our current multi-media operations and deliver local public affairs media in a post-cable world. The successful candidate will have strong skills and experience managing business information technology functions including some MySQL/MariaDB database administration, financial systems, CRM, desktop support, website CMS troubleshooting and maintenance, Google Apps administration, telephone and video conferencing.