Chronic
Producer
Description
Michael Blood and Aidan White show off their favorite CCTV/Channel 17 videos from the past and present.
Programs in this Series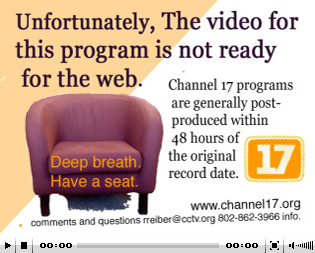 Chronic: Episode 3 - Burlington Noire
-
05/17/2019
Aidan comes to Detective Blood's office to get an update on locating his wife's murderer.
The Lost Promo
-
02/14/2019
Aidan tells us what to expect from Town Meeting Day election coverage here at Channel 17. Michael is nowhere to be found...
Episode 1: Santa's Workshop
-
12/19/2018
The young elf Aidan gets his Christmas wish to show others his videos. Paul McLeod Interview: https://www.cctv.org/watch-tv/programs/paul-mcleod-interview La Posada, A Guatemalan Christmas Tradition: https://www.cctv.org/watch-tv/programs/...
Featured Story
Mix, mingle, and dive into the decades at CCTV's 35th-anniversary events on May 30th and June 13th! Looking forward and looking back! Local media now more than ever keeps the democratic muscles in shape.